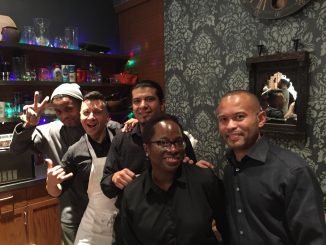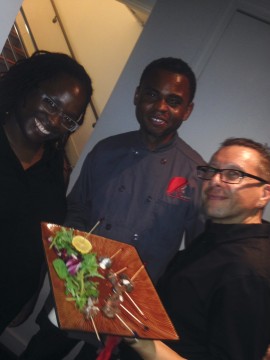 For as long as I can remember, food and its tasteful culinary options held a special place with me. During my late teens my interest naturally expanded to include flavor, aroma and of utmost importance, tasteful presentation.
Ownership of my first cookbook sealed the deal. How? One could say that I was the designated driver for my mother and in particular she would visit a certain family friend quite often. While they conversed and maybe gossiped, I'd use the time to occupy myself with reading this really enormous cookbook that my mom's friend had on a shelf in her kitchen. I started copying recipes from this book. Her friend noticed my intense interest in this cookbook and one day gifted it to me. One condition came with receiving the book; She wanted to be one of the first to sample the recipes I made.
My first successful recipe was apple pie baked from scratch – yeah I went all in, made the crust, cut the apples, measured the sugar,….. . I almost lost a finger in the process but that's another story. The pies were delicious but to be honest, the presentation was rough on the eyes. That didn't sit well with me and I had to get it right. Persistence won out and the pies became perfection. It was intriguing to see how raw ingredients with attention to detail could be transformed into delicious culinary creations that were just as appetizing to look at.
The art of food preparation and the ability to create specialty dishes runs in my family. My great grandmother cooked and catered many large events sponsored by the Catholic Archdiocese of New York. My grand aunt owned and operated a successful soul food restaurant for over 20 years. My step dad was definitely a great influence as I recall intensely watching him work his creative talents in the kitchen as he was known to try out new recipes, a new technique or a new ingredient all in an effort to impress and add variety to what came to the table for us to eat.
After years of studying, observing and learning the art of food preparation, I decided to start Only Hors d'oeuvres Catering and Events with focus on serving delicious one-bites. My recipes consist of signature Small Bites, Finger Foods, Tapas, and Appetizers that are presented and served in a casual elegant manner complimented with class, grace and an air of sophistication that is appropriate for any occasion.
Since starting small over 8 years ago, our style, our taste and our presentation are the reasons we have had great success and are sought after by an eclectic clientele such as Mr. Glen S. who allowed us to christen his brand new luxury condo's kitchen for his birthday/housewarming celebration, the Asian Cultural Society who commissioned us to cater their high profile functions attended by dignitaries and other notable clients.
The mission of Only Hors d'oeuvres Catering and Events is to compliment and celebrate life's momentous occasions with the most delicious creative small bites. Food that will impress and after the first taste will have you and your guests saying 'OH, THAT'S GOOD!'.
The Crew and I look forward to working with you.
-Gary Settles (Owner)